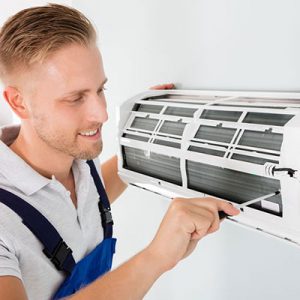 Expert Air Conditioning Services on Long Island
Whether you need an installation, tune-up, or repair, you can trust the A/C professionals at Ed Skoch Cooling & Heating Co. for affordable and efficient service on Western Long Island. We're proud to offer a broad range of air conditioning services to keep your home comfortable and your cost within budget.
---
Book an Installation
Is it time to upgrade your current air conditioning system? Whether you need a ductless or central installation, an upgrade to a new high-efficiency system offers plenty of benefits for both your home and your budget. Take advantage of lower energy bills, improved fuel economy, improved indoor air quality, and a reduced risk of malfunctions. Contact us to discuss your A/C upgrade, so you can enjoy a cool, and relaxing summer.
Schedule a Tune-Up or Repair
Getting annual maintenance for your cooling system will extend its life, improve efficiency, and reduce your risk of mid-season breakdowns. Our technicians are highly trained and experienced, able to help identify small issues before they become expensive repairs. But, if you need to have your A/C repaired, we can get it up and running again quickly and affordably. Get in touch to book maintenance service today.
BOOK MAINTENANCE
Enroll in a Service Plan
Take full control of your A/C budget by signing up for a service plan. With parts and labor discounted and a tune-up included, you can rest assured that your air conditioner is fully covered. Enjoy total peace of mind, knowing that the energy experts at Ed Skoch Cooling & Heating Co. will provide you with exceptional service, keeping your A/C system operating like new.
ENROLL IN A SERVICE PLAN